https://www.latimes.com/books/la-et-jc-joyce-carol-oates-20160405-story.html
G
Yet our tendency to forget the haunting brilliance displayed in the short story "Where Are You Going, Where Have You Been?," in the novel "Them," the novella "Black Water," the Marilyn Monroe novel "Blonde," and to focus instead on her tweets or the sheer volume of her catalog seems fitting, because her latest novel, "The Man Without a Shadow" (Ecco: 384 pp., $27.99), is preoccupied with the act of forgetting. It tells the story of a charismatic amnesiac, Elihu Hoopes, whose short-term memory has been destroyed by encephalitis. Though Eli, his ailment and an image he can't seem to shake — the disturbing anamnesis of a girl's body floating just below the surface of a stream — are at its center, the book is as much the story of Margot Sharpe, a neuroscientist who enters Eli's life as a graduate student but over time becomes much more entangled with her patient's world. The novel wrestles with our complicated acts of remembrance and the various ways memory constructs and colors our emotions and ethics — our entire identity. After all, it's memory that allows you to discern where you are going, where you have been.
Oates will appear at the Los Angeles Times Festival of Books on Saturday, April 9. This phone interview has been edited for length and clarity.
What carries you from one book to the next? Does an image come to you or a character or an idea you want to explore?
In a long work like a novel, a number of elements have to come together. It's like a river into which many tributaries are flowing. The river builds with different smaller streams. You have one idea and then another and then another. I always start with characters about whom I care. I like to work with characters who are representational. I am interested in the personal, but I also want to write something that has a larger significance in terms of society.
"The Man Without a Shadow" is not only a fascinating portrait of its two main characters, Margot and Eli, but an examination of memory as the very bedrock of the edifices of our identities, our personalities.
I'm interested in how we fashion our personalities out of somewhat selective memory. We forget much. It is both very natural and very normal to forget a good deal. Things that we remember may have a certain cast. As in a movie, there's a certain tone, of lighting, of music, of sound, so with our memories some people have a natural tone of melancholy and others have a more optimistic or cheerful tone. We all know people who are determined to be upbeat and other people who seem to be looking over their shoulders all the time, wounded and complaining. Personality to me is the ultimate fascination — how we're all so different, and yet we're very much alike in many ways.
How did the function of memory determine the book's structural and aesthetic choices?
The novel is constructed as if it were notes on an amnesiac. A neuroscientist is keeping a personal journal and part of that is the novel, but then we're also in Eli's memory and imagination too. We see what he's remembering of his past. He's haunted by his past. That's true of many people. There are seminal incidents in people's lives that they keep returning to and thinking about. He's tormented by something that happened when he was very small and didn't have any ability to comprehend. He's trying to comprehend it with his art.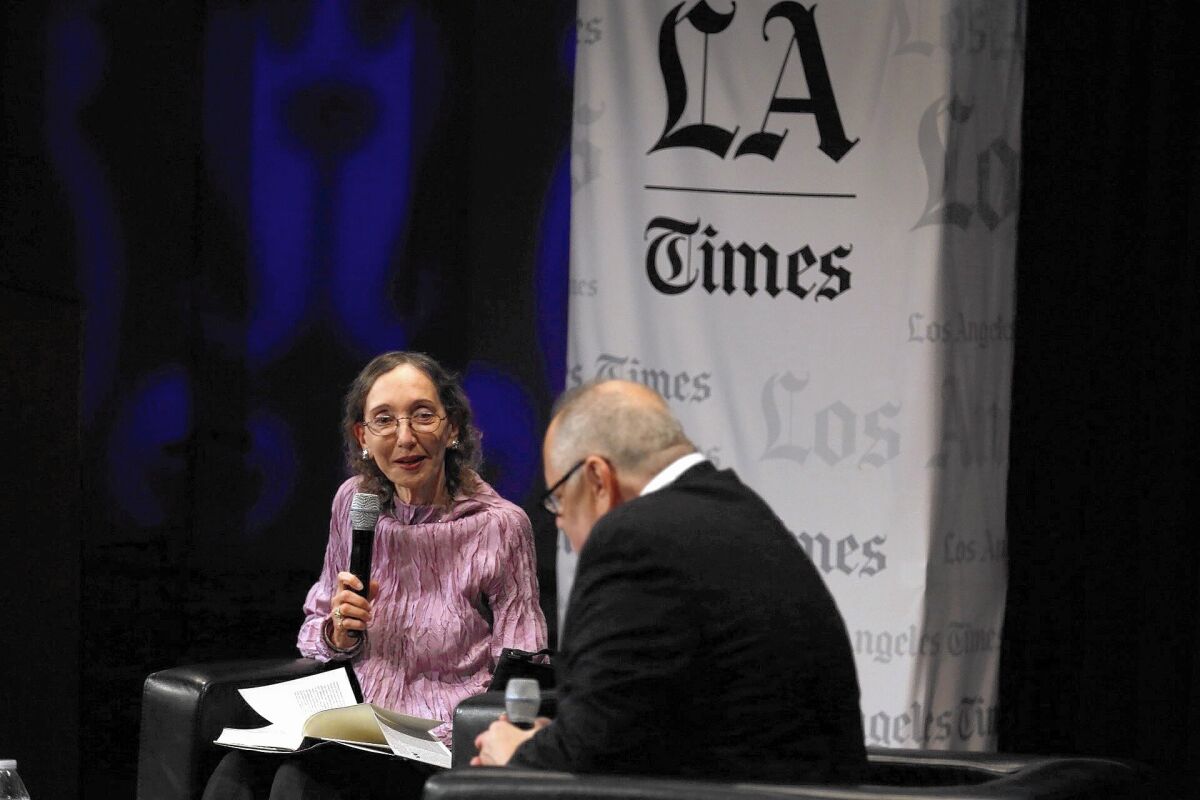 Author Joyce Carol Oates talks with Michael Silverblatt during the Los Angeles Times Festival of Books at USC on April 19, 2015.
(Francine Orr / Los Angeles Times)
Are there similarities between comprehension through art and science? You write of Margot, "She has always asked questions for which there are not ready answers. To be a scientist, Margot thinks, is to know which questions to ask." Is that also in some way the definition of a writer?
A scientist is someone who is really looking at the causality of things. If you were a political scientist, let's say, you would look at the current political situation with Donald Trump and the others in a very analytical way, seeing it maybe as part of a cycle of American politics. A scientist is always looking at the context, whereas most people just read the newspaper and throw it out. "Does this thing have consequences?" "What does it mean?" "Is there a precedent in history?" These are questions that a scientist would ask, and a novelist asks these questions as well.
Malone is a writer and professor of English. He is the founder and editor in chief of the Scofield and a contributing editor for Literary Hub.
---
MORE FROM THE LOS ANGELES TIMES
Join our community Book Club. Our mission is to get Southern California reading and talking.

Subscribe for unlimited access
Follow Us
Copyright © 2022, Los Angeles Times | Terms of Service | Privacy Policy | CA Notice of Collection | Do Not Sell My Personal Information
By continuing to use our site, you agree to our Terms of Service and Privacy Policy. You can learn more about how we use cookies by reviewing our Privacy Policy.Close