In a field behind the chemical factories near the port, refugees were washing their clothes with a canister of water and washing-up liquid, pummelling T-shirts on a black plastic binbag ripped open to make a clean surface, and hanging the clothes to dry on the bushes. Some said they could not remember the last time they had been able to wash properly. "I think it was a month and a half ago," said West Justnui, 25, an Ethiopian who would like to study political science in the UK. Others said they washed in the sea by the port, but found the salt water left them feeling dirty.
A long-term Calais resident, Sylvie, who asked for her full not not to be printed, has been offering showers in her home to teenage refugees ever since the camp closed last year. "I feel beyond ashamed at the mayor's approach. Now the camp has gone, people have no shelter, no way of washing themselves. I couldn't bear to see the conditions they were living in, so now I let people come three times a week to shower in my home." She said most people in Calais were unmoved by the refugees' situation. "People here have become very hard."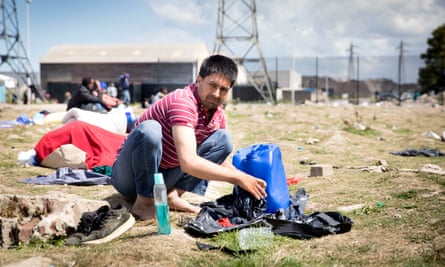 A refugee washes his clothes at a camp in Calais. Refugees have few opportunities to wash.